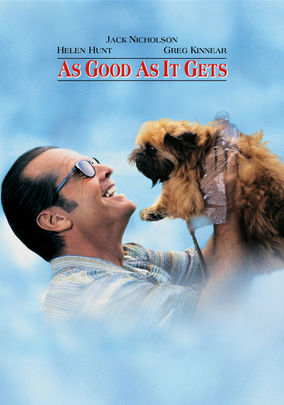 As Good as It Gets
1997
Rated PG-13
2hr 18m
Chronic grouch and acerbic author Melvin Udall lives in an obsessive-compulsive fog, rigidly following his daily routine -- till he's reluctantly drawn into the lives of stressed-out single mom Carol Connelly, gay neighbor Simon Bishop and his dog.
Rent DVDs for only $4.99 a month.
Common Sense Note
Parents need to know that this film deals candidly with homophobia, violence, mortality, and mental disorders. It includes a very violent and disturbing attack on one of the main characters, which leaves the man hospitalized and disfigured. A character verbally abuses others as a means of coping with his own extreme self-centered and (clinically) obsessive-compulsive behavior.
Sexual Content

Slurs about gay sex, female sexual frustration, male prostitution. Nudity is portrayed in artwork.

Violence

One very graphic homophobic assault and the horrific wounds left as a result.

Language

One character uses a large amount of profane, sexually and culturally insensitive language. However, it is used to illustrate both the intolerance of the main character and the pain and frustration of the other two leads.

Social Behavior

One main character exhibits hostile and obsessive compulsive behavior toward others. The same character also deals with his homophobia and a fear of intimacy. Other main characters include a gay man struggling to rebuild his life after an attack and a working-class single mom trying to get by while caring for herself and her chronically ill child.

Consumerism

Includes Nick-at-Nite advertising.

Drugs / Tobacco / Alcohol

Various moments of social drinking. A character takes anti-depressants.
Legend
Age appropriate

Not an issue

Depends on your kid and your family

Not appropriate for kids of the age most likely to want to see it