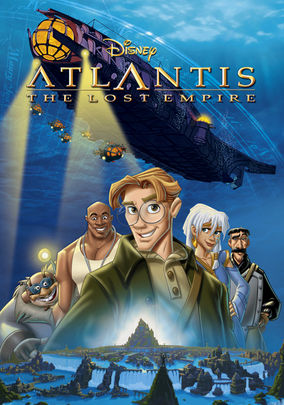 Atlantis: The Lost Empire
2001
Rated PG
95 mins
A rare Disney foray into PG-rated animation, this action-filled tale follows the exploits of a group of adventurers led by museum researcher Milo Thatch as they journey thousands of leagues under the sea to the fabled kingdom of Atlantis.
Rent DVDs for only $7.99 a month.
Movie Details
DVD details
Screen Formats
Widescreen Anamorphic 2.35:1
Subtitles
None
Closed captioned
Closed captioned
Language and sound
English: DTS 5.1 Surround English: Dolby Digital 5.1 French: Dolby Digital 2.0 Stereo
Other features
Color; interactive menus; scene access; visual commentary, a behind-the-scenes look with the producer and directors; additional footage on the "making of" process; DisneyPedia Atlantis: Fact or Fiction, fun and interesting theories about the lost continent of Atlantis.

Loading
We're sorry an error occurred while processing your request.