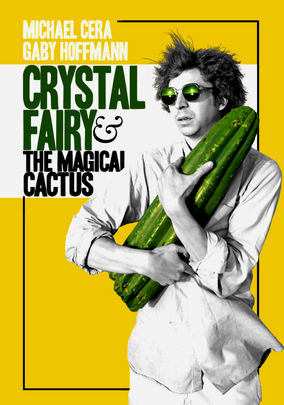 Crystal Fairy & the Magical Cactus
2013
Rated NR
1hr 38m
A self-absorbed young American traveling in Chile plans a journey with his pals to find a legendary hallucinogenic cactus. But when he invites the free-spirited Crystal Fairy along, they find themselves locked in a battle of wills.
Rent DVDs for only $7.99 a month.
Movie Details
Ratings

NR

Not rated. This movie has not been rated by the MPAA.
DVD details
Blu-ray details
Screen Formats
Widescreen Anamorphic 2.35:1
Subtitles
English Spanish (Neutral)
Language and sound
English: Dolby Digital 5.0
Other features
Color; interactive menus; scene access.
Screen Formats
Widescreen 2.35:1
Subtitles
English Spanish (Neutral)
Language and sound
English: DTS-HD Master Audio
Other features
Color; interactive menus; scene access.
Crystal Fairy & the Magical Cactus
Close
Common Sense Note
Parents need to know that Crystal Fairy is an offbeat dramedy about men and women whose weaknesses are revealed, often harshly, during a camping trip laced with mescaline. It's a fascinating -- albeit mature -- study of human behavior and group dynamics. Expect nudity (full frontal for women, back view for the men), some swearing ("s--t," "a--hole," etc.) and plenty of scenes with characters indulging in all sorts of substances, including cocaine. Indie fave Michael Cera stars.
Sexual Content

A woman jokes about having an orgy. She also walks around stark naked for a significant chunk of the movie, the camera lingering at times, in close-up. Men's backsides are also shown. A man talks to two prostitutes about their job. Revealing photos depicting people in sexual situations are briefly shown.

Violence

A group of women accosts a tourist in a square and the men who come to her rescue. They're very aggressive about asking for money, pushing and shoving. There's frank talk of what a dominatrix does for her customers. A man needles a woman to the point that it verges on bullying. A character talks about a rape, and it's a horrific, affecting scene.

Language

Language includes "damn," "s--t," and "a--hole."

Social Behavior

It's enveloped in the quest for a hallucinogenic substance, but there's a message about the idea that a shared adventure can be quite a bonding experience. Also, the movie promotes the idea of not judging a book by its cover.

Consumerism

Ford, Mitsubishi, Lays, and other brands make brief appearances.

Drugs / Tobacco / Alcohol

The plot revolves around the hunt for the San Pedro, a cactus that, if cooked for a long time over low heat, takes on seriously hallucinogenic properties. Party guests smoke weed and snort cocaine, and one of the characters does so much that he can't sleep. Some beer and liquor-drinking at a party.
Legend
Age appropriate

Not an issue

Depends on your kid and your family

Not appropriate for kids of the age most likely to want to see it