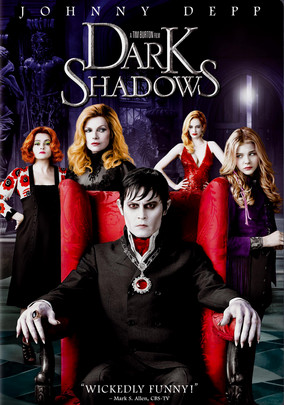 Dark Shadows
2012
Rated PG-13
1hr 53m
Tim Burton's take on the cult gothic soap follows a centuries-old vampire as he returns to his now-crumbling estate to meet his modern descendants. But what he finds is a house full of secrets and shadows.
Rent DVDs for only $7.99 a month.
Movie Details
Ratings

PG-13

Comic horror violence, sexual content, some drug use, language and smoking
DVD details
Blu-ray details
Screen Formats
Widescreen 1.85:1
Subtitles
English SDH French Spanish (Neutral)
Language and sound
English: Dolby Digital 5.1 French: Dolby Digital 5.1 Spanish (Neutral): Dolby Digital 5.1
Other features
Color; interactive menus; scene access.
Screen Formats
Widescreen 1.85:1
Subtitles
English SDH French Spanish (Neutral) Portuguese
Language and sound
English: DTS 5.1 HD French: Dolby Digital 5.1 Spanish (Neutral): Dolby Digital 5.1 Portuguese: Dolby Digital 5.1
Other features
Color; interactive menus; scene access.
Common Sense Note
Parents need to know that Dark Shadows is Tim Burton and Johnny Depp's big-screen adaptation of the cult '60s TV vampire soap opera, with a generous helping of silliness added. There's plenty of vampire violence and blood, though the blood is deliberately fake-looking, and the killings largely take place off screen. A flashback sequence involves a young girl's parents shipping her off to an asylum, where she's locked in a cell and receives electroshock therapy. While there's no nudity, there's lots of sexual innuendo and passionate kissing -- and a 15-year-old girl is disturbingly sexualized, often posing, dancing, or speaking in sexy ways. Language includes several uses of words like "s--t," "bitch," and "bastard"; the main character smokes pot in one scene, and supporting characters are shown drinking to excess. This isn't swoon-worthy vampire cinema a la Twilight, but Burton and Depp fans should enjoy the duo's always-quirky pairing.
Sexual Content

Plenty of innuendo (references to touching oneself, making noises, etc.) and some passionate kissing, but no nudity. Barnabas kisses or has sexual encounters with three women (four if you count that the same actress plays women of two different eras). He has supernatural "sex" with a witch: Locked in an embrace (and still clothed), they crash all over the walls and ceiling of a room. A female character lowers her face, off screen, to the main character's crotch to (presumably) give him oral sex. A woman rips off her top to reveal her cleavage and places Barnabas' hand on her (covered) breasts. Also of note is the way in which 15-year-old actress Chloe Grace Moretz is sexualized in her scenes, posing or dancing sensually or reciting dialogue in a sexy way.

Violence

The movie's mood is comic, so none of the violence has a heavy impact; but there are also no notable consequences for the killings -- and there are a lot of them, with lots of blood (which seems to have been deliberately colored to resemble the fake-looking TV blood of the 1960s). Most characters die off screen. The movie's climax includes a special effects-heavy supernatural fight between characters (including a stream of green vomit) but little brutality. In a flashback, parents ship a little girl off to an asylum because she sees ghosts; there are some potentially upsetting shots of her locked up in a cell and receiving electroshock treatment. Also some spooky ghosts and an explosion/fire.

Language

"S--t" is used a couple of times; "bitch," "damn," "a--hole," "hell," "bastard," "whore," "oh my God," and "balls" are also used. There's also a range of insults, including "stupid," "harlot," succubus," etc.

Social Behavior

Dark Shadows has a narrated introduction about how important family is, and there's a takeaway about avoiding the "curse" of a loveless life, but these themes aren't conveyed strongly. Basically, It's a one-man show, with Barnabas taking center stage and rarely turning to his family or helping them with anything. The other family members appear to despise one another. An uncle chooses to leave his son in exchange for money. And in general, problems are solved through violence.

Consumerism

When Barnabas emerges from his coffin, he's entranced by a giant "McDonald's" sign. There are lots of references to 1970s-era products, some of which are still around today -- there's a Wheaties cereal box, toys like Operation and Rock 'em Sock 'em Robots, and a "troll" doll. Scooby-Doo is shown on television.

Drugs / Tobacco / Alcohol

A supporting character is shown to have a drinking problem. It's treated comically, but she's drinking and belligerent in nearly every scene. She also pops some kind of prescription pill. Another supporting character is shown slobbering drunk in one scene. Barnabas is around a group of hippies who smoke pot. A 15-year-old girl is involved in a joke about being "stoned" (shown in the trailer), in which Barnabas misunderstands the meaning of the term.
Legend
Age appropriate

Not an issue

Depends on your kid and your family

Not appropriate for kids of the age most likely to want to see it