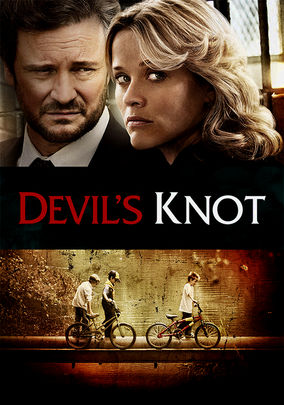 Devil's Knot
2013
Rated NR
1hr 54m
Frothing for vengeance after three 8-year-olds are slain, the community of West Memphis, Ark., directs blame at a trio of teens suspected of Satanism. Atom Egoyan directs Reese Witherspoon and Colin Firth in this fact-based tale of justice gone awry.
Rent DVDs for only $7.99 a month.
Movie Details
Ratings

NR

Not rated. This movie has not been rated by the MPAA.
DVD details
Blu-ray details
Screen Formats
Widescreen 1.78:1
Subtitles
English SDH
Language and sound
English: Dolby Digital 5.1
Other features
Color; interactive menus; scene access.
Screen Formats
Widescreen 1.78:1
Subtitles
English SDH
Language and sound
English: DTS-HD Master Audio
Other features
Color; interactive menus; scene access.
Common Sense Note
Parents need to know that Devil's Knot re-tells the story of the West Memphis Three (previously covered in four documentaries -- the Paradise Lost trilogy and West of Memphis), which centers on brutal murder of three young boys, followed by a controversial act of justice that may have ruined three more boys' lives. While no violent acts take place onscreen, viewers will see some blood and disturbing images (particularly the bodies of the three dead boys, which are briefly shown naked and tied up). Strong language is sparse but includes one use of "f--k," as well as "goddamn" and "hell." There are very brief references to drinking, smoking, and drugs. This movie -- which is told with an overall hopelessness about a world in which this kind of thing can happen -- could help people unfamiliar with the story find their way to the documentaries, which tell the story much better and in greater depth.
Sexual Content

A woman attempts to get information from some teen boys by dressing and acting seductively.

Violence

No onscreen acts of violence, but the aftermath of some horrifying violence is shown. In two brief shots, viewers see dead bodies of three young boys (no sensitive body parts shown) -- naked, tied at the wrists and ankles, and drowned. A man covered in blood is briefly shown. Throughout the movie, there are descriptions of satanic rituals and blood ceremonies, as people try to imagine and make sense of what happened. There's an overall sense of gloom, defeat, and sadness in this world where three innocent boys can be brutally murdered. Some graphic crime scene photos are shown.

Language

"F--k" is used once; other harsh language is infrequent. "Hell" and "goddamn" are heard, and there are many references to Satan and devil worship.

Social Behavior

The movie has an incredibly downbeat and hopeless view about human nature and the American judicial system. It ends with two characters who believe that some wrongdoing has been done, but neither has any idea what to do or how to change anything. Still, it could inspire younger viewers to start thinking about what changes could be made in the future.

Consumerism

Not applicable

Drugs / Tobacco / Alcohol

A character takes a quick sip of whisky, and another character pulls out a cigarette but doesn't smoke it. Drugs are briefly mentioned.
Legend
Age appropriate

Not an issue

Depends on your kid and your family

Not appropriate for kids of the age most likely to want to see it