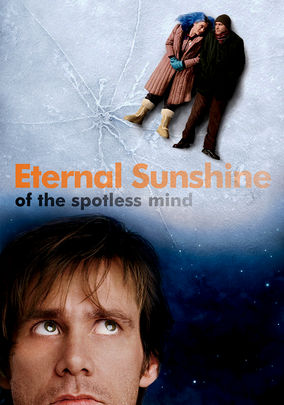 Eternal Sunshine of the Spotless Mind
2004
Rated R
1hr 48m
After learning that his ex-girlfriend had an experimental medical procedure to purge all memories of him, a man decides to do the same with her. But during the operation, he realizes he doesn't want to lose what's left of their relationship.
Rent DVDs for only $4.99 a month.
Eternal Sunshine of the Spotless Mind
Close
Common Sense Note
Parents need to know that ETERNAL SUNSHINE OF THE SPOTLESS MIND is a 2004 movie that explores the oft-stated idea that it is better to have loved and lost than to never have loved at all. There is frequent profanity throughout the film; the F-word, among others, is used quite a bit. Characters are often shown drinking alcohol and smoking cigarettes and marijuana. In one scene, a woman stumbles into the apartment of her boyfriend after drunkenly driving his car into a fire hydrant. In another scene, a man is arguing with his girlfriend about how he likes to get high on marijuana to balance out being drunk. These scenes, and the general theme of preserving memories in spite of the pain they cause in the aftermath of a failed relationship, make this film best for mature teens and adults.
Sexual Content

While reliving a memory as a tween, the lead character is caught masturbating by his mother. Characters are shown talking after having sex. Briefly exposed male buttocks.

Violence

Not applicable

Language

Frequent profanity. "F--k" is used often. "Bitch," "faggot," "ass," "s--t," "p--sy."

Social Behavior

The movie explores the idea that it's better to have loved someone and known all the joy the experience brings -- in spite of the hurt and sorrow that might come with the relationship and the relationship's ending -- than to go through life unscathed without having met that person.

Consumerism

Not applicable

Drugs / Tobacco / Alcohol

One of the lead characters is shown stumbling into an apartment after drunkenly driving her boyfriend's car into a fire hydrant. Characters are shown drinking beer and alcohol and acting intoxicated. Early in the movie, a character is shown pouring whiskey into her coffee while in a diner. Characters smoke marijuana; in one scene, a woman is noticeably high and starts babbling uncontrollably in front of her boss. Cigarette smoking.
Legend
Age appropriate

Not an issue

Depends on your kid and your family

Not appropriate for kids of the age most likely to want to see it