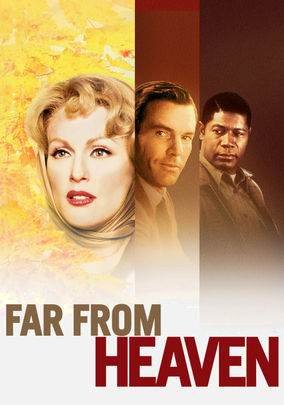 Far from Heaven
2002
Rated PG-13
1hr 48m
When she finds her husband with another man, a housewife in 1950s Connecticut must deal not only with infidelity but racial tension, as she copes with her emotional turmoil by developing an unlikely friendship with her African-American gardener.
Rent DVDs for only $4.99 a month.
Common Sense Note
Parents need to know that this Oscar-nominated melodrama deals with mature, complex issues, including prejudice, sexuality, and adultery. Characters make anti-Semitic and racist comments; there's also some drinking and smoking. One character gets drunk in an attempt to numb the pain he feels about not being true to himself.
Sexual Content

Characters discuss sex; heterosexual and homosexual couples kiss. Some suggested intimacy and discussion of adultery.

Violence

Tense scenes.

Language

One "f--k" and occasional uses of phrases like "goddamn" and "oh God."

Social Behavior

The movie's characters are complex, and they face serious dilemmas and complicated issues relating to marriage, sexuality, race, and social expectations. The 1950s' suburban setting is portrayed as rigid and quick to gossip and condemn, but ultimately the main characters are true to themselves and their feelings.

Consumerism

Not applicable

Drugs / Tobacco / Alcohol

Social drinking; a character gets drunk. Some smoking (era-appropriate for the '50s setting).
Legend
Age appropriate

Not an issue

Depends on your kid and your family

Not appropriate for kids of the age most likely to want to see it