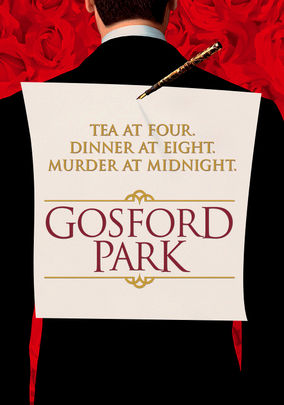 Gosford Park
2001
Rated R
2hr 18m
A weekend hunting party at the home of Sir William McCordle turns into a murder mystery when the host is found dead. This witty whodunit follows the subsequent investigation from the perspectives of the guests and their servants.
Rent DVDs for only $4.99 a month.
Common Sense Note
Parents need to know that Gosford Park has sexual references and situations (briefly graphic), including adultery, a hint of a homosexual relationship, and an attempted molestation. There is some strong language and a character is murdered by poisoning and stabbed afterward. Accurate to the period, characters smoke and drink heavily.
Sexual Content

Three affairs between servants and those they serve. Two scenes show a kitchen maid in the dark with some thrusting in the shadows barely visible. Some bawdy talk and sexual references, including mentions of illegitimate children and hints of a homosexual relationship.

Violence

A murder by poisoning and then the corpse is stabbed. You see the corpse fall over with a knife and no blood. A bullet grazes an ear in a hunting scene. One servant sexually assaults another, but is caught before it goes beyond rough kissing and groping.

Language

Language is infrequent but includes "f--king." Also: "s--t," "piss," "hell," "damn," "bloody," and "bugger all." (Note that cigarettes in Britain are called "fags.")

Social Behavior

The intelligent script reveals just how intertwined the lives of the different classes really are, despite outward appearances. The movie also explores what lengths people will go to in order to protect the ones they love.

Consumerism

Not applicable

Drugs / Tobacco / Alcohol

Smoking in many, many scenes in this 1932-set movie -- cigarettes and pipes. A drunken servant is carried to bed and there's plenty of drinking of wine and whiskey at the dinner parties.
Legend
Age appropriate

Not an issue

Depends on your kid and your family

Not appropriate for kids of the age most likely to want to see it