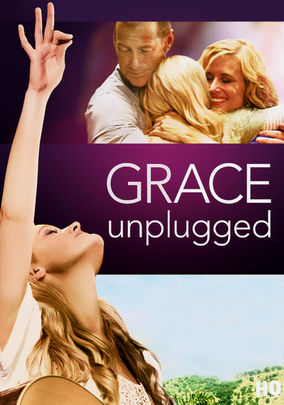 Grace Unplugged
2013
Rated PG
1hr 42m
Every Sunday, 18-year-old Grace performs at church with her ex-rock star father, but she longs to share her talent with the rest of the world. Heading for the bright lights of Los Angeles, she soon must choose between stardom and faith.
Rent DVDs for only $7.99 a month.
Movie Details
Ratings

PG

Thematic elements and brief teen drinking
DVD details
Blu-ray details
Screen Formats
Widescreen 1.78:1
Subtitles
English Spanish (Neutral)
Language and sound
English: Dolby Digital 5.1
Other features
Color; interactive menus; scene access.
Screen Formats
Widescreen 1.78:1
Subtitles
English English SDH Spanish (Neutral)
Closed captioned
Closed captioned
Language and sound
English: DTS-HD Master Audio Spanish (Neutral): Dolby Digital 5.1
Other features
Color; interactive menus; scene access.
Common Sense Note
Parents need to know that Grace Unplugged is a faith-based family drama about an 18-year-old who runs away to Los Angeles to become a pop star against the express wishes of her Christian parents. It's a story about finding your own way back to you family and God, and it contains some heavy subject matter (references to sex, fake celebrity romances, and artistic compromises), but should be fine for mature tweens and teens. Christian parents will enjoy seeing this movie with their adolescent kids. Families who aren't Christian may still appreciate the feel-good message of honoring your parents and staying true to your beliefs (whatever they might be).
Sexual Content

A father tries to give his 18-year-old daughter a purity ring symbolizing abstinence, but she angrily asks if he thinks she's "going to sleep around." Grace starts dating a young TV star who invites her to his place and tells a friend on the phone he's about "to seal the deal" with her. A stylist gives Grace lingerie and jokes that the gift is really for her boyfriend. A music producer asks Grace to sing a song about a one-night stand. Eventually Grace starts caring about another guy, and there is some hand-holding and a chaste kiss.

Violence

Not applicable

Language

Grace can be rude to her father and yells at him. There's a lot of yelling throughout the movie.

Social Behavior

The most important message, beyond the religious one about the importance of faith, is the idea that a parent's love is unconditional, and that doing the right thing reaps rewards in the long run.

Consumerism

References to brands like Grace's Fiat 500.

Drugs / Tobacco / Alcohol

Still 18, Grace starts to drink once she's in Los Angeles. Champagne and beer are passed out at parties, and she copies a friend's drink order and is shown getting drunk. Grace's father is known for being a recovering alcoholic.
Legend
Age appropriate

Not an issue

Depends on your kid and your family

Not appropriate for kids of the age most likely to want to see it