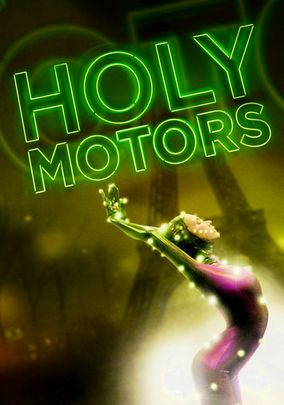 Holy Motors
2012
Rated NR
1hr 55m
This surreal drama from France follows DL, who becomes many different individuals living very different lives over a 24-hour period -- switching effortlessly from man to woman, impoverished to affluent, young to old, and even assassin to family man.
Rent DVDs for only $7.99 a month.
Movie Details
Ratings

NR

Not rated. This movie has not been rated by the MPAA.
DVD details
Blu-ray details
Screen Formats
Widescreen 1.85:1
Subtitles
English
Language and sound
French: Dolby Digital 5.0
Other features
Color; interactive menus; scene access.
Screen Formats
Widescreen 1.85:1
Subtitles
English
Language and sound
French: Dolby Digital 5.1
Other features
Color; interactive menus; scene access.
Common Sense Note
Parents need to know that Holy Motors is a very strange yet poetic, sad, lovely -- and mature -- movie from highly respected French director Leos Carax. Violence ranges from unsettling dream/nightmare imagery and discussions of death to killings, spurting blood, and dead bodies. There's also graphic male full-frontal nudity (including an erect penis) and other strong sexuality. Language is mild but includes two uses of the French "merde," which the English subtitles translate as "s--t." The main character also smokes several cigarettes and gets drunk on whisky. Holy Motors is bizarre enough that only the most movie-crazy teens will even be interested in seeing it.
Sexual Content

The main character appears fully naked for long moments, with an erect penis. An attractive woman appears in a latex motion-capture outfit, and the main character wears a similar outfit. They engage in sensual touching (breasts) and licking (crotch area). Later, their performance is turned into a brief, computer-animated scene of lovemaking dragon-like creatures (complete with animated penis). Another woman appears in her bra and panties.

Violence

The main character plays a creepy monster in one sequence, with a milky-white eye and a crazy walk. He bites off a woman's fingers, with blood. Later, he kidnaps a model, licks her armpit, and smears blood from his lips there. Characters are stabbed in the neck, with streams of spurting blood. A man is shot at a sidewalk cafe, with more blood. Two figures are shown splattered on the sidewalk, having jumped from the top of a building. Characters die, and there are conversations about death. There's also some strange, unsettling, and potentially scary dream/nightmare imagery.

Language

The French "merde" is used twice, and the subtitles translate it to "s--t." "Moron" and "idiot" are also used.

Social Behavior

It's tough to know what Holy Motors is actually saying, but one possible theme is the sad, lonely lives of performers, giving up their own identities and taking on others' on cue. Characters don't seem to learn much, except that we see them growing weary of such a life.

Consumerism

Not applicable

Drugs / Tobacco / Alcohol

The main character smokes cigarettes regularly. He slowly starts drinking whisky over the course of the film; in one scene, he appears to be drunk. The mood is one of despair and regret, rather than humor.
Legend
Age appropriate

Not an issue

Depends on your kid and your family

Not appropriate for kids of the age most likely to want to see it