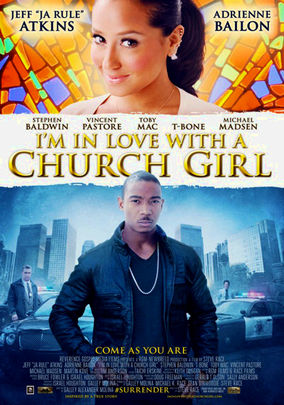 I'm in Love with a Church Girl
2013
Rated PG
1hr 58m
When a tough-minded ex-drug dealer falls for a beautiful but highly devout Christian woman, their mutual attraction takes them both down a twisty path that tests their love -- and their faith.
Rent DVDs for only $7.99 a month.
Movie Details
Ratings

PG

Thematic elements, a scene of violence, some suggestive content and brief language
DVD details
Blu-ray details
Screen Formats
Widescreen Anamorphic 1.78:1
Language and sound
English: Dolby Digital 5.1
Other features
Color; interactive menus; scene access.
Screen Formats
Widescreen 1.78:1
Language and sound
English: Dolby Digital 5.1
Other features
Color; interactive menus; scene access.
I'm in Love with a Church Girl
Close
Common Sense Note
Parents need to know that I'm in Love With a Church Girl is a faith-based film about a former drug dealer who turns his life to God with the help of his Christian girlfriend. Based on the life of pastor and former California drug smuggler Galley Molina, the movie was produced not just to entertain but to evangelize, so the main message is how even a former criminal can find forgiveness, acceptance, and love through God's grace. There's no language or sex scenes (although there are a few chaste kisses and mentions of sex), but there are a few moments in a nightclub when grown-ups drink alcohol, some overt brand placements (mostly cars), and a couple of moments when criminals or cops wield guns.
Sexual Content

A few kisses and mentions of sex (in addition to a sensual Bible verse from Song of Solomon) as well as one scene in which a provocatively dressed woman flirts and snuggles up to Miles. Miles admits he slept with a woman he introduces to Vanessa.

Violence

The cops arrest suspects at gunpoint. Miles protects his friends by pulling a gun on a rival.

Language

Insults like "stupid," and "coward," plus a few "damn"s.

Social Behavior

Strong faith-based messages: God can transform a man's life; even the most notorious criminal can have a change of heart through the grace of God, and other Bible-based themes.

Consumerism

Miles drives a Bentley that is shown in many scenes, and there's a lingering close-up of the Lamborghini a pastor drives into the church parking lot. Vanessa drives a Sebring convertible. Apple products are also depicted.

Drugs / Tobacco / Alcohol

Miles is a former drug dealer, a fact that's mentioned again and again in the movie. There's drinking or alcohol present in a few nightclub scenes, but it's all adults drinking.
Legend
Age appropriate

Not an issue

Depends on your kid and your family

Not appropriate for kids of the age most likely to want to see it