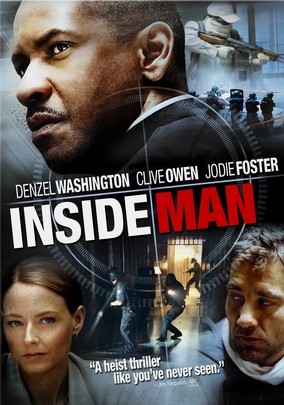 Inside Man
2006
Rated R
2hr 9m
Dispatched to the scene of a bank robbery, detective Keith Frazier must match wits with a cunning thief who's always one step ahead of the cops. When a loose-cannon negotiator is called on for help, the unstable situation spins out of control.
Rent DVDs for only $7.99 a month.
Movie Details
Ratings

R

Language and some violent images
DVD details
Blu-ray details
Screen Formats
Widescreen Anamorphic 2.35:1
Language and sound
English: Dolby Digital 5.1 English: DVS - Descriptive Video Service
Other features
Color; interactive menus; scene access.
Language and sound
English: DVS - Descriptive Video Service
Other features
Color; interactive menus; scene access.
Common Sense Note
Parents need to know that this film includes extreme language (frequent "f--k"s and other profanity, including the "N" word). The robbers take the bank with smoke bombs, dress in masks and painters' coveralls, and look ominous throughout; hostages are frightened, with some crying and others acting tough. The film includes sexual language. Characters display and discuss racism (most often, anti-Arab and anti-black). Characters smoke cigarettes and cigars. One crucial plot point involves a character making money by working with Nazis during WWII.
Sexual Content

References to women's breasts (plus some jokes about men's tendency to focus on breasts); sexual language and discussion of sexual activity; hostages are upset when they're forced to strip (we see them looking uncomfortable in underwear).

Violence

Explosions (inside bank); a man is beaten behind a door (shadows visible and grunts audible), and he emerges bruised and bloody; gunshots, a seeming (and disturbing) execution of a character with a bag over his head.

Language

Lots of profanity. Several instances of the n-word (including a video game called "Kill Dat N---a"); over 50 uses of f-word; slang for genitals.

Social Behavior

Bank robbers, angry cops, corrupt executives: All misbehave, cheat, and lie.

Consumerism

iPods.

Drugs / Tobacco / Alcohol

Smoking (cigarettes and cigars).
Legend
Age appropriate

Not an issue

Depends on your kid and your family

Not appropriate for kids of the age most likely to want to see it