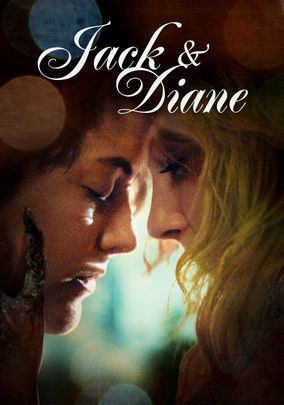 Jack & Diane
2012
Rated R
1hr 50m
When teenage girls Jack and Diane meet, they're swept up in a night of passion. But Jack's upset to learn that Diane is leaving the country in a week. Meanwhile, Diane's new sexual feelings lead to strange changes in her body and werewolf visions.
Rent DVDs for only $7.99 a month.
Movie Details
Ratings

R

Strong sexual content including nudity and an assault, bloody violence, language and drinking - all involving teens
DVD details
Blu-ray details
Screen Formats
Widescreen Anamorphic 1.78:1
Subtitles
Spanish (Neutral)
Closed captioned
Closed captioned
Language and sound
English: Dolby Digital 5.1
Other features
Color; interactive menus; scene access; trailer.
Screen Formats
Widescreen 1.78:1
Subtitles
Spanish (Neutral)
Language and sound
English: Dolby Digital 5.1
Other features
Color; interactive menus; scene access; trailer.
For Parents
17
Pause for kids 17 & under
Common Sense Note
Parents need to know that Jack & Diane is a teen romantic drama with strange, gory horror overtones. For some reason, the female teen lovers turn into monsters during dream sequences. There's shocking violence, spurting blood, and eating of human organs, as well as some disturbing interludes involving what looks like growing/moving hair among human organs. In addition to scenes of the lovers kissing and fondling each other and more, there are also uncomfortable/upsetting sexual scenes involving teens on the Internet (a teen girl is drugged, and two boys masturbate on her unconscious body). Teens also drink regularly and occasionally smoke cigarettes. Language is likewise strong, with uses of "f--k," "s--t," and "p---y." Jack & Diane has been billed as a horror film, but teens who watch it with this in mind will surely be disappointed.
Sexual Content

One scene depicts a video viewed on a porn website in which a college girl is drugged, and two college boys masturbate on her unconscious body. In another scene, a male teen manipulates a photo of a naked woman to make her breasts appear bigger. The two main teen girls begin a love affair that includes lots of kissing, some bottom squeezing, some phone sex, and finally a tender, awkward sex scene (with one naked breast seen). One of the main characters meets a second lover for sex (nothing is shown). A main character attempts to shave her pubic hair; viewers see the area covered with shaving lotion.

Violence

It's not entirely clear why, but occasionally the girls turn into monsters and eat each other, though this appears to happen only in dreams. There's a good deal of blood and sudden, shocking violence. One character is seen munching on what appears to be a human liver. There are strange interludes every so often that feature what looks like hair growing or moving in and around various bodily organs. One character gets into a car accident on her skateboard, and her face is scraped up for most of the movie. Both characters get bloody noses from time to time. One girl loses a tooth.

Language

Language isn't constant but includes several uses of strong words like "f--k," "s--t," "motherf---er," "p---y," "ass," "retarded," "bitch," "creamed," "slut," "a--hole," and uses of "God" and "Jesus Christ" (as exclamations).

Social Behavior

The love story here doesn't have much of an arc, and characters don't really learn to communicate, nor do they change or improve much. They do learn to trust one another, but it's not clear whether this leads to anything good.

Consumerism

In one scene, the girls have a contest to see who can keep "Atomic Fireball" candy in their mouth the longest.

Drugs / Tobacco / Alcohol

Teens regularly drink beer at parties and clubs, though they never really appear drunk. One of the main characters smokes a cigarette in one scene.
Legend
Age appropriate

Not an issue

Depends on your kid and your family

Not appropriate for kids of the age most likely to want to see it