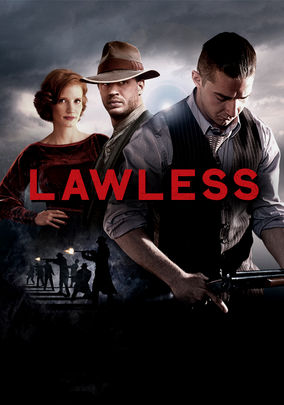 Lawless
2012
Rated R
1hr 55m
This true-to-life action saga profiles Virginia's bootlegging Bondurant gang, whose exploits during the Prohibition era made them outlaw heroes. The three Bondurant brothers tussle with the law and each other as they try to survive changing times.
Rent DVDs for only $7.99 a month.
Movie Details
Ratings

R

Strong bloody violence, language and some sexuality/nudity
DVD details
Blu-ray details
Screen Formats
Widescreen 2.35:1
Subtitles
English Spanish (Neutral)
Language and sound
English: Dolby Digital 5.1
Other features
Color; interactive menus; scene access.
Screen Formats
Widescreen 2.35:1
Subtitles
English Spanish (Neutral)
Language and sound
English: DTS-HD Master Audio
Other features
Color; interactive menus; scene access.
Common Sense Note
Parents need to know that Lawless is a dark, history-based drama that's not age appropriate for younger viewers, even though teens of all ages might be drawn in by stars Tom Hardy and Shia LaBeouf. There's lots of intense, cringe-inducing violence (including bloody scenes of torture, references to rape, and much shooting and brawling) and two scenes of nudity (one is sexual and one is menacing), as well as frequent use of strong language (including "f--k," racial epithets, and more). The themes are mature as well -- the heroes are murderous outlaws and the villains are ruthless dirty cops -- making the story too heavy for most teens.
Sexual Content

For most of the movie, there's little more than long gazes between two of the brothers and their respective love interests. But in the final act, one brother finally kisses the girl he fancies, while another brother has an interested woman walk into his bedroom naked (viewers see her topless and flashing a lot of skin, but not full frontal) and get on top of him.

Violence

Lots of unflinchingly violent and bloody scenes. There's some gun violence (a couple of shoot outs), but most of the violence is up close and personal: brass knuckles tearing through skin, a knife slicing a man's throat, a young man's neck broken, a boot smashed on top of a head. Someone is tarred and feathered. Rape is implied but not shown (bruises are later evident). The Bondurant brothers are brutal and take offenses to their family seriously. Every major character is nearly killed, and there's a body count from all the cops-versus-moonshiners-versus-gangsters fighting. A frightened and young-looking woman sits naked on a menacing man's bed.

Language

Several uses of "f--k" and "s--t," plus "motherf---er," "c--k," "damn," "hell," "goddamn," "ass," and "Jesus Christ" (as an exclamation). And, because of the time period the movie is set in, there are also racist insults like "cracker," "hick," "negro," "hillbilly," "inbreeds," "mountain boys," etc.

Social Behavior

The only positive message is that brothers have one another's backs and should be there for each other unconditionally -- but the brothers here are murderous outlaws who do lots of terrible things, and the themes are dark and mature. Viewers will learn something about the history of Prohibition.

Consumerism

Not applicable

Drugs / Tobacco / Alcohol

This movie revolves around making moonshine during Prohibition, so naturally there's a whole lot of drinking (frequently to excess). Lack of inhibition due to drinking is a theme of the movie. And because it was en vogue at the time, almost everyone smokes cigarettes, too.
Legend
Age appropriate

Not an issue

Depends on your kid and your family

Not appropriate for kids of the age most likely to want to see it