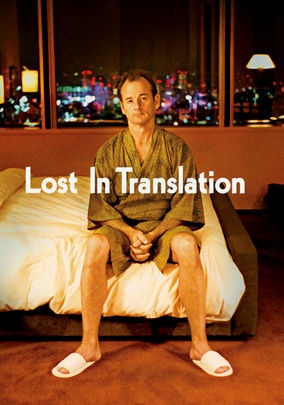 Lost in Translation
2003
Rated R
1hr 42m
Two lost souls visiting Tokyo -- the young, neglected wife of a photographer and a washed-up movie star shooting a TV commercial -- find an odd solace and pensive freedom to be real in each other's company, away from their lives in America.
Rent DVDs for only $4.99 a month.
Lost in Translation
Close
Common Sense Note
Parents need to know that Lost in Translation shows many aspects of night life in Tokyo, including drinking and smoking. Characters also go to a strip club (where women are topless and wearing barely there G-strings and giving lap dances), get chased out of a bar with a fake gun, smoke pot before performing karaoke, and one character has an affair (with nothing shown). There's a little bit of strong language that includes "s--t."
Sexual Content

Bob has an affair, but nothing is shown. An escort is sent to Bob's door and tries to play-act getting her stockings ripped; Bob wants none of it. In a Tokyo strip club bare-breasted women in barely there G-strings writhe around and give friends of Charlotte a lap dance.

Violence

Friends of Charlotte provoke a bartender and get chased with a gun that probably has rubber bullets. Someone throws a bottle at them and they get chased some more.

Language

Song in strip club about "sucking on my "t--ies." Plus "s--t," "hell," and "Christ's sake."

Social Behavior

Explores times of searching in life for identity and purpose. And it also shows how precious it is to find a sense of connection when you feel like an outsider.

Consumerism

Characters stay at the Park Hyatt Tokyo and many scenes take place in the hotel.

Drugs / Tobacco / Alcohol

Charlotte smokes and her husband says "it's just so bad for you." She says, "I'll stop later." Plenty of smoking and drinking in the many bar scenes. Charlotte and friends smoke pot before singing karaoke.
Legend
Age appropriate

Not an issue

Depends on your kid and your family

Not appropriate for kids of the age most likely to want to see it