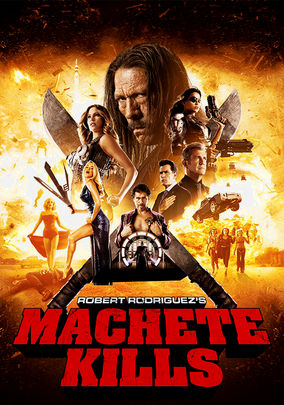 Machete Kills
2013
Rated R
1hr 48m
Vigilante and ex-Federal Machete returns to battle when the U.S. government recruits him to take down a psychotic revolutionary and a billionaire arms dealer trying to launch a weapon into space.
Rent DVDs for only $7.99 a month.
Movie Details
Ratings

R

Strong bloody violence throughout, language and some sexual content
DVD details
Blu-ray details
Screen Formats
Widescreen Anamorphic 1.85:1
Subtitles
English French Spanish (Neutral)
Language and sound
English: Dolby Digital 5.1
Other features
Color; interactive menus; scene access.
Screen Formats
Widescreen 1.85:1
Subtitles
English French Spanish (Neutral)
Language and sound
English: DTS-HD Master Audio
Other features
Color; interactive menus; scene access.
Common Sense Note
Parents need to know that, like Machete, Machete Kills attempts to re-create an intense, over-the-top "grindhouse" movie experience with gleefully excessive violence, sexuality, and language (though the energy seems to have flagged somewhat this time around). Violence includes tons of blood and gore, including a microwaved plasma bag that explodes and sprays all over a hospital room, plus multiple beheadings, slicings, guttings, and shootings, as well as fighting. Language is also very strong, with many uses of "f--k," "s--t," and "p---y." There's very little nudity, but viewers do see one sex scene and a woman wearing bottomless chaps, and there's some sexual innuendo. Plus, all the women in the movie are viewed as objects, dressed in sexy, revealing clothing (one even has a machine gun bra).
Sexual Content

A Miss America competitor seduces Machete; as they start to have sex, the movie switches to a weird, distorted color scheme with the joke "put on your 3D glasses now" (the movie isn't in 3D). Sofia Vergara's character has a machine gun bra; she also has a smaller gun that fires, penis-like, from her crotch. One female character is seen wearing bottomless chaps, and all other female characters wear sexy or revealing outfits. There's a joke about fake breasts and other innuendo.

Violence

Very strong, frequent violence, all of it over-the-top and cartoonish, with geysers of blood and mountains of gore. Characters are frequently beheaded or split in half. One man is killed when the lead character slices into his stomach, grabs his intestines, and tosses them into the nearby whirling blades of a helicopter. In another scene, the lead character microwaves a packet of blood in a hospital, resulting in a huge blood spray. The movie is full of crazy weapons, and there are plenty of shootouts. Hand-to-hand and martial arts fighting are shown. A main character dies, a character's face is burned, and another loses an eye.

Language

Language is very strong and constant, starting with many uses of "f--k" and "s--t." There is also "d--k," "goddamn," "bitch," "motherf----r," "p---y," "snatch," "pecker," "blowing wad," "ass," "a--hole," "damn," "balls," and more.

Social Behavior

There's no real attempt at a positive message amid the nonstop violence, sex, and sexual innuendo -- none of which has much in the way of consequences.

Consumerism

A Pepsi machine is visible in one of Lady Gaga's scenes.

Drugs / Tobacco / Alcohol

Machete takes a shot of tequila with the president of the United States. Secondary characters smoke cigars.
Legend
Age appropriate

Not an issue

Depends on your kid and your family

Not appropriate for kids of the age most likely to want to see it