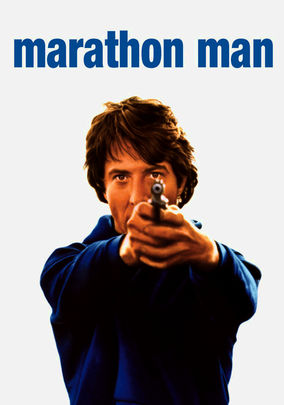 Marathon Man
1976
Rated R
2hr 6m
When his CIA agent brother (Roy Scheider) is killed, graduate student Babe Levy (Dustin Hoffman) finds himself trapped in a deadly game with a Nazi fugitive (Laurence Olivier), a sadist who uses dental instruments as tools of torture in this Oscar-nominated film based on William Goldman's novel. As Levy turns from pacifist to street-smart cynic, director John Schlesinger's thriller barrels toward its fever-pitched conclusion.
Rent DVDs for only $4.99 a month.
Common Sense Note
Parents need to know that this is an action film full of violence. Numerous fights take place with various weapons ranging from fists and razor wire to guns and knives. Many fights and standoffs end with characters dying in bloody and graphic ways. Tense scenes feature a character being tortured with dental equipment. A flashback sequence shows a young child discovering his father dead on the floor after having committed suicide. One nude sex scene takes place. Many characters use explicit language in anger and frustration.
Sexual Content

Nude sex scene.

Violence

Bloody shootings, strangling, knifings, fistfights, graphic torture, car chases, etc.

Language

Not applicable

Social Behavior

The main character stands up to a Nazi criminal, but does so in a violent and unlawful manner.

Consumerism

The action is motivated by characters' desire for jewels.

Drugs / Tobacco / Alcohol

Casual drinking of alcohol.
Legend
Age appropriate

Not an issue

Depends on your kid and your family

Not appropriate for kids of the age most likely to want to see it