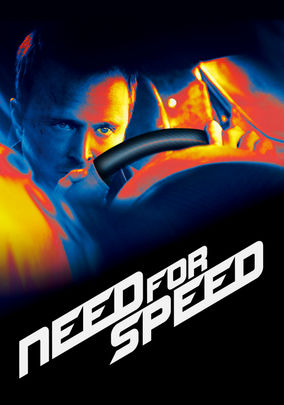 Need for Speed
2014
Rated PG-13
2hr 11m
When street racer Tobey Marshall puts the pedal to the metal in a wild cross-country event, revenge is top of mind. Fresh out of the slammer, Tobey is determined to take down the man who framed him for manslaughter.
Rent DVDs for only $7.99 a month.
Movie Details
Ratings

PG-13

Sequences of reckless street racing, disturbing crash scenes, nudity and crude language
DVD details
Blu-ray details
Screen Formats
Widescreen 2.39:1
Subtitles
English SDH Spanish (Neutral) French
Language and sound
English: Dolby Digital 5.1 English: DVS - Descriptive Video Service Spanish (Neutral): Dolby Digital 5.1 French: Dolby Digital 5.1
Other features
Color; interactive menus; scene access.
Language and sound
English: DVS - Descriptive Video Service
Other features
Color; interactive menus; scene access.
Common Sense Note
Parents need to know that Need for Speed is an action movie, based on a video game, and centers around car racing (and car crashing). Teens will be attracted to the movie thanks to its star Aaron Paul in his first lead role after the hit TV series Breaking Bad. Expect plenty of car chases, stunts, and crashes, and characters die, though only a little blood is shown. Infrequent language includes a few uses of "s--t" and "bitch." In some scenes, women are shown as sexual objects, a man strips naked (only his bottom is shown), and the main character and the leading lady fall in love and nearly kiss. Parents of driving-age teens should be aware that the very fast stunt driving in the movie was done by both stuntmen and actors after intensive training, and they might want to remind them that this kind of driving in real life is extremely dangerous.
Sexual Content

A male character quits his office job by stripping down to nothing. It's a long sequence as he walks through the building and outside, interacting with his friends, though only his naked bottom is shown. The main character and the lead female character share an almost-kiss.

Violence

The movie includes many car chases and crashes, and filmed without the aid of CG effects, the impact of these stunt sequences is quite strong. Characters die in car crashes. We see some guns and shooting, and some punching, but only a little blood is shown (mostly injuries after crashes).

Language

Language is not very frequent but does include "s--t," "bitch," "ass," and "douchebag."

Social Behavior

The main thrust of the story is revenge, and the main characters destroy countless amounts of property with no consequences.

Consumerism

A female character mentions her prized "Gucci boots." The brand names of cars are mentioned, such as "Ford Mustang."

Drugs / Tobacco / Alcohol

Characters occasionally drink in restaurants or in a background way.
Legend
Age appropriate

Not an issue

Depends on your kid and your family

Not appropriate for kids of the age most likely to want to see it