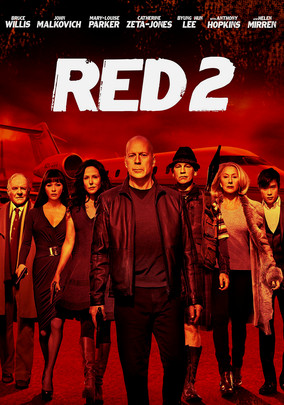 Red 2
2013
Rated PG-13
1hr 56m
Ex-CIA agent Frank Moses and his crew return for another high-stakes mission, scouring the globe for a missing nuclear device. Along the way, they'll face off against assassins, terrorists and corrupt government officials.
Rent DVDs for only $7.99 a month.
Movie Details
Ratings

PG-13

Pervasive action and violence including frenetic gunplay, and for some language and drug material
DVD details
Blu-ray details
Screen Formats
Widescreen 1.78:1
Subtitles
English Spanish (Neutral)
Language and sound
English: Dolby Digital 5.1
Other features
Color; interactive menus; scene access.
Screen Formats
Widescreen 1.78:1
Subtitles
English Spanish (Neutral)
Language and sound
English: DTS-HD Master Audio English: DVS - Descriptive Video Service
Other features
Color; interactive menus; scene access.
Common Sense Note
Parents need to know that action/comedy Red 2 is the (disappointing) sequel to 2010's successful Red, and many of the characters (played by Bruce Willis, John Malkovich, Helen Mirren, Mary-Louise Parker and others) return. Violence is again the main issue, with crazy, explosive, cartoonish action/fighting/shooting scenes throughout. Characters are stabbed, shot, and killed; there are bloody martial arts fights and lots of crashes and explosions. The good guys face no repercussions for any of the violent acts they're involved in. Language is fairly minor, with a few uses of "s--t" and "bitch." Expect some brief sexual references and situations; hard drugs (LSD and acid) are also mentioned, and characters drink vodka in one scene. Commercialism is fairly strong, with several brands featured onscreen.
Sexual Content

Couples kiss. Characters also (comically) kiss other people as a means of deception or to get information. In one scene, a character is strip-searched. He's seen shirtless and from the back, with the top of his buttocks just showing. In one scene, a man admires a lady's foot and then sniffs her shoe. The cover of a Penthouse Magazine is briefly shown, in a wide shot, with no nudity. Some sexual innuendo.

Violence

The movie's violence is largely bloodless, except for one or two violent martial arts-style fist fights, which leave characters with various bleeding cuts on their faces. Many, many characters are shot and killed, and some are stabbed to death. There are car chases and explosions, and a nuclear bomb goes off that apparently harms no one except its intended target. A character casually disposes of a body using acid and a bathtub.

Language

"S--t" and/or "bulls--t" is used a few times. Other words include "bitch," "son of a bitch," (and the slangy "bi-atch"), "balls," "bastard," "suck it," "d--k," "damn," "ass," "crap," "goddamn," "oh my God," and "hell."

Social Behavior

The movie's general message (aside from revisiting the first movie's notion that older folks are still useful/relevant) seems to be that going on adventures and killing lots of people is just what's needed to spice up a romantic relationship. One character kills for the first time and, though she appears shaken for a moment or two, faces no other consequences.

Consumerism

The movie opens in a Costco, with the Kirkland brand visible in several shots. A can of Pringles comes in handy during a fight. A Papa Johns pizza restaurant provides access to a secret tunnel, and the characters have pizza while they dig. In a secret hideout, a character eats an old Moon Pie, and a can of SPAM is visible.

Drugs / Tobacco / Alcohol

Verbal references to LSD and acid, and characters drink shots of vodka in one scene.
Legend
Age appropriate

Not an issue

Depends on your kid and your family

Not appropriate for kids of the age most likely to want to see it