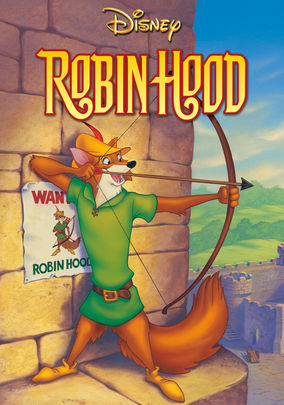 Robin Hood
1973
Rated G
1hr 23m
With King Richard off to the Crusades, Prince John and his slithering minion, Sir Hiss, set about taxing Nottingham's citizens with support from the corrupt sheriff -- and staunch opposition by the wily Robin Hood and his band of merry men.
Rent DVDs for only $4.99 a month.
Movie Details
Awards

1974 Academy Award®
Ratings

G

General audiences. All ages admitted.
Common Sense Note
Parents need to know that this video is mostly tame but contains examples of bad behavior, such as greediness, gullibility and, in Robin's case, stealing. But it's also a heartwarming tale about having compassion for those who are less fortunate.
Sexual Content

Not applicable.

Violence

Mostly slapstick fare with medieval weaponry; Prince John has a sadistic tendency to strike his courtier Hiss.

Language

Not applicable

Social Behavior

Although Robin and Little John are technically outlaws, they are clearly well meaning; they engage in theft, duplicity and pranks, but all in good humor. Prince John is the pinnacle of poor character: vain, greedy, gullible, and temperamental with a habit for thumb sucking.

Consumerism

Not applicable

Drugs / Tobacco / Alcohol

Not applicable
Legend
Age appropriate

Not an issue

Depends on your kid and your family

Not appropriate for kids of the age most likely to want to see it