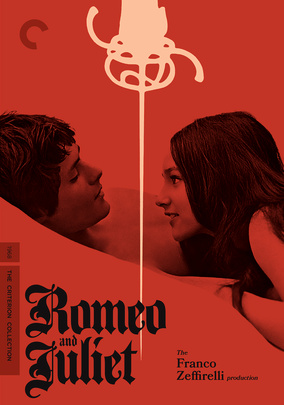 Romeo & Juliet
1968
Rated PG
2hr 18m
Falling in love against the wishes of their feuding families, star-crossed lovers Romeo Montague and Juliet Capulet defy their destiny and elope in secret, only to suffer the ultimate tragedy.
Rent DVDs for only $4.99 a month.
Common Sense Note
Parents need to know that four centuries haven't diminished the relevance of this tragic and brilliantly worded story, in which the examples of two feuding families drive home a fatal point. Still, teens may see the story as a glamorization of suicide and the subject is well worth discussing with them.
Sexual Content

Nude male posterior and a glimpse of breasts in a tasteful bed scene.

Violence

Bitter quarreling leads to murder and suicide. Some deadly swordplay. Two young people take their own lives.

Language

Not applicable

Social Behavior

Buried beneath the lyricism and romance is a basic mesaage promoting peace.

Consumerism

Not applicable

Drugs / Tobacco / Alcohol

Not applicable
Legend
Age appropriate

Not an issue

Depends on your kid and your family

Not appropriate for kids of the age most likely to want to see it