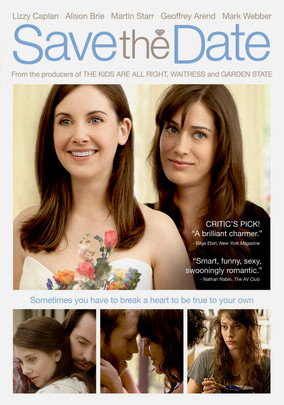 Save the Date
2012
Rated R
1hr 38m
Sisters Beth and Sarah are a study in contrasts, but both are also involved with men who are best friends and members of the same rock band. When Sarah leaves her lover, Kevin, and starts another intense affair, Beth grows furious with her sibling.
Rent DVDs for only $7.99 a month.
Movie Details
Ratings

R

Sexual content, language and brief drug use
DVD details
Blu-ray details
Screen Formats
Widescreen 1.85:1
Language and sound
English: Dolby Digital 5.1
Other features
Color; interactive menus; scene access.
Screen Formats
Widescreen 1.85:1
Subtitles
English Spanish (Neutral)
Language and sound
English: Dolby Digital 5.1
Other features
Color; interactive menus; scene access; behind-the-scenes featurette.
Common Sense Note
Parents need to know that Save the Date is an indie romantic comedy about two sisters at opposite end of the relationship spectrum -- one is busy planning her wedding, while the other is coming off a bad break-up. Expect frank emotional discussions, both between the siblings and between couples, and many sex scenes; they don't show any sensitive body parts, but they're still plenty racy (including some vigorous motions and explicit sounds). Characters drink, get drunk, smoke pot, and make bad decisions while wasted. There's also plenty of swearing, including "f--k," "s--t," and more.
Sexual Content

Several sex scenes, some including suggestions of oral sex. No sensitive body parts are visible, but the sequences look and sound like real people having intimate encounters, including playful banter, energetic thrusting, and plenty of moans and groans. One man has a very obvious erection when he strips down to his boxers.

Violence

Emotional bickering between two sisters and between a couple that's breaking up. One very brief fist fight.

Language

Frequent swearing includes "f--k," "bitch," "d--k," and several variations of "s--t."

Social Behavior

Sarah and Beth are both muddling through life and trying to do the right thing. They're not completely successful, but that feels pretty realistic. In the end, they, like most everyone else, are seeking happiness and end up willing to accept whatever life hands them in that respect.

Consumerism

A few characters use Mac laptops and sometimes drink Heineken beer.

Drugs / Tobacco / Alcohol

Many scenes show adult characters drinking -- at bars, at parties, at home -- and several people get quite drunk. While inebriated, some get wistful, some get hostile, and one woman falls asleep with her head on the bar. People make poor choices while under the influence, including dropping in unannounced on former lovers. A few scenes also show adults smoking pot.
Legend
Age appropriate

Not an issue

Depends on your kid and your family

Not appropriate for kids of the age most likely to want to see it