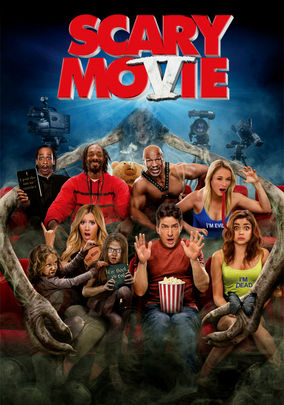 Scary Movie 5
2013
Rated PG-13
1hr 26m
Taking aim at not only the horror genre but such venerable films as Black Swan, The Hunger Games and Inception, Scary Movie 5 widens the franchise's scope of mockery as a host of stars gleefully skewers some of Hollywood's most popular titles.
Rent DVDs for only $7.99 a month.
Movie Details
Ratings

PG-13

Crude and sexual content throughout, language, some drug material, partial nudity, comic violence and gore
DVD details
Blu-ray details
Screen Formats
Widescreen 1.78:1
Subtitles
English Spanish (Neutral)
Language and sound
English: Dolby Digital 5.1
Other features
Color; interactive menus; scene access.
Screen Formats
Widescreen 1.78:1
Subtitles
English Spanish (Neutral)
Language and sound
English: Dolby True HD
Other features
Color; interactive menus; scene access.
Common Sense Note
Parents need to know that Scary Movie 5 is the latest in the increasingly tired series of horror movie spoofs begun in 2000 by the Wayans brothers (and now continued by others). Like the others, it's filled with vulgar, rude humor and relies on slapstick, stereotypes, crude bodily jokes, and sexual innuendo for laughs. It also includes some horror violence, notably a scene of dismemberment (out of Evil Dead) that's filled with blood. There are also meant-to-be comical scenes of parents punching and smacking children (both accidentally and on purpose). Though there's no graphic nudity or sex, innuendo is very strong, and there's plenty of racy stuff. In the opening sequence, Charlie Sheen and Lindsay Lohan make a sex tape, there's a lesbian sex scene, and a pool party sequence shows haunted pool vacuum cleaners drinking and doing drugs. Language includes one "f--k" and many uses of "s--t." Some teens may be interested, but otherwise, this series has run out of steam.
Sexual Content

Tons of sexual innuendo, imagery, and banter. Charlie Sheen and Lindsay Lohan make a "comical" sex tape in the opening scene. There's an additional sex scene, though no graphic nudity. Dogs are shown copulating. There's a "party" of pool vacuum cleaners, and they're shown in sexual positions. Crude drawings of penises are briefly shown. A woman performs a sexy pole dance. Two women in bikinis are shown showering together, soaping each other. 50 Shades of Gray is mentioned. A "naughty nanny" is shown, along with a "crotchless" Santa Claus. A sex toy is shown. A porn website is shown (no nudity).

Violence

In one scene, a clueless aunt and uncle punch a couple of little girls in the face (the girls punch back). A baby's head is bashed on a door frame and is also accidentally set on fire. In a scene spoofing Evil Dead, characters saw off their limbs and slice their tongues -- it all happens off screen, though lots of blood is shown. Two characters draw and fire guns. Lots of slapstick falling, characters getting clocked in the head, and comical fighting.

Language

One use of "f--k" and several uses of "s--t," plus the "N" word, "bitch," "slut," "penis," "vagina," "balls," "hell," "ass," "crap," "damn," and "oh my God."

Social Behavior

As usual, jokes are based on stereotypes, poop jokes, and bodily humor. Characters never seem to learn anything, let alone demonstrate awareness of what's going on.

Consumerism

Mentos are shown in one scene (a girl eats them, drinks a soda, and then shoots across the room like a rocket).

Drugs / Tobacco / Alcohol

In one scene, a bunch of "haunted" pool vacuum cleaners have a huge party and are seen "drinking" and snorting cocaine. In an early scene, Snoop Dogg and another character are shown stealing an enormous joint; they also talk about drugs. Two women take Ecstasy in a nightclub.
Legend
Age appropriate

Not an issue

Depends on your kid and your family

Not appropriate for kids of the age most likely to want to see it