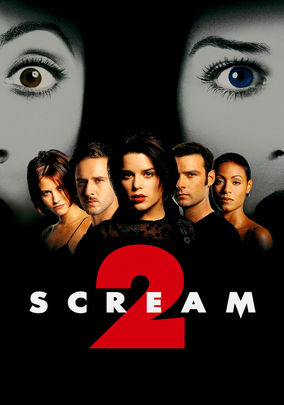 Scream 2
1997
Rated R
122 mins
In the two years since the fateful events in Woodsboro, Gale has written a best-seller, which has been turned into a film. As the movie premiere looms closer, the mysterious deaths begin again. Dewey heads to Sidney's college to protect her.
Rent DVDs for only $7.99 a month.
Movie Details
Ratings

R

Language and strong bloody violence
DVD details
Screen Formats
Widescreen 2.35:1
Subtitles
None
Closed captioned
Closed captioned
Language and sound
English: Dolby Digital 5.1
Other features
This is very standard fare DVD material - which is a little disappointingconsidering the attention that was given to Scream. A commentary trackmight have been interesting on Scream 2 (just what were they thinking?).
The trailer is included and the image and sound are generally firstrate. The soundtrack is in DD 5.1. The menu design is simple and easyto use.

Loading
We're sorry an error occurred while processing your request.