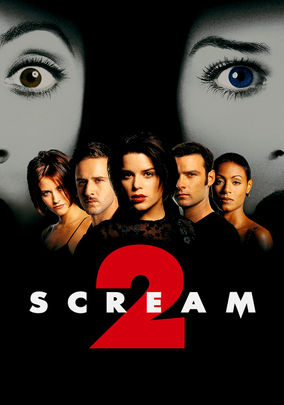 Scream 2
1997
Rated R
2hr 2m
In the two years since the fateful events in Woodsboro, Gale has written a best-seller, which has been turned into a film. As the movie premiere looms closer, the mysterious deaths begin again. Dewey heads to Sidney's college to protect her.
Rent DVDs for only $4.99 a month.
Movie Details
Ratings

R

Language and strong bloody violence
DVD details
Screen formats
Widescreen 2.35:1
Subtitles
None
Closed captioned
Yes
Language and sound
English: Dolby Digital 5.1
Other features
This is very standard fare DVD material - which is a little disappointingconsidering the attention that was given to Scream. A commentary trackmight have been interesting on Scream 2 (just what were they thinking?).
The trailer is included and the image and sound are generally firstrate. The soundtrack is in DD 5.1. The menu design is simple and easyto use.
Common Sense Note
Parents need to know that, while the carnage isn't as extreme as it was in the first SCREAM, bloodshed and stabbings are still abundant. So is foul language, and a portrayal of a college campus environment as a place where nobody ever seems to be caught studying, just partying and pledging fraternities and sororities.
Sexual Content

Characters refer to sex, though not as often as in the last film. Two police officers are sniggeringly suggested to be homosexuals.

Violence

Vicious stabbings, close-range shootings, and hand-to-hand fighting.

Language

Abundant profanity.

Social Behavior

Tough, plucky central figure Sidney is, as always, the most normal among a cast of shifty, possible mass-murder suspects. David Arquette's noble but goofy deputy Dewey is a certifiably nice guy.

Consumerism

Primarily references to other horror movies.

Drugs / Tobacco / Alcohol

Alcohol is very popular on this campus, who knew?
Legend
Age appropriate

Not an issue

Depends on your kid and your family

Not appropriate for kids of the age most likely to want to see it