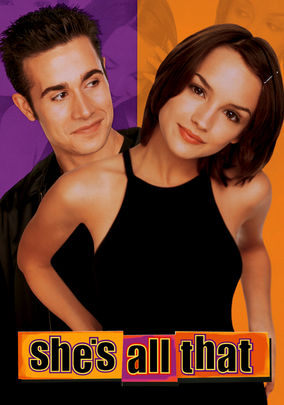 She's All That
1999
Rated PG-13
1hr 36m
In this charming teenage spin on "Pygmalion," jock and class president Zack Siler accepts his friends' bet to make over the geeky, bespectacled Laney Boggs into a prom queen beauty. But along the way, Zack falls in love with his sparkling creation.
Rent DVDs for only $4.99 a month.
Movie Details
Ratings

PG-13

Sexual content, crude humor, brief strong language and teen drinking
Common Sense Note
Parents need to know that this movie has strong language, teen drinking, and casual sex (though not by the main characters). Zach's friend brags that he is going to get Laney to have sex with him in a hotel room he has arranged for the occasion. For some reason, when Laney's friend overhears this, instead of making the stunningly obvious move of telling Laney what the guy has in mind, he races around trying to get the message to someone else. Parents should know that the movie includes an ugly and graphic scene in which a school bully torments Laney's hearing-impaired brother by reaching into his pants to grab some pubic hair and putting it on his pizza. Zach then forces the bully and his friend to eat it. Yuck.
Sexual Content

Some casual sex, but not by main characters.

Violence

Fistfights, bullies.

Language

Some.

Social Behavior

Individual differences.

Consumerism

Not applicable

Drugs / Tobacco / Alcohol

Teen drinking.
Legend
Age appropriate

Not an issue

Depends on your kid and your family

Not appropriate for kids of the age most likely to want to see it