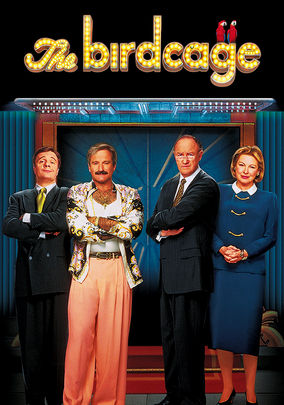 The Birdcage
1996
Rated R
1hr 59m
Longtime lovers Armand and Albert own a Miami drag club, but when Armand's son announces his intent to marry the daughter of a stuffy U.S. senator, the gay couple feels compelled to pass themselves off as a "normal" family in this wild farce.
Rent DVDs for only $4.99 a month.
Movie Details
Awards

1997 Golden Globe Awards

Best Actor in a Motion Picture (Musical or Comedy) nominee
Best Motion Picture (Musical or Comedy) nominee

AFI®

1997 Academy Award®

Best Art Direction nominee
DVD details
Screen formats
Widescreen 1.85:1
Subtitles
Spanish (Neutral), French, English
Closed captioned
Yes
Language and sound
Spanish (Neutral): Dolby Digital 2.0 Stereo, French: Dolby Digital 2.0 Stereo, English: Dolby Digital 2.0 Surround
Other features
Standard issue studio DVD with high quality picture and sound. Few options and simple menu design.
Common Sense Note
Parents need to know that The Birdcage is a fun, comedic romp in an adult setting: a South Beach nightclub with a drag show. There's some strong language: "F--k" and variations are used about a dozen times; other profanity is infrequent and includes "a--hole" and "s--t." Characters are frequently seen drinking, usually with a meal or in celebration, but sometimes characters comedically guzzle from a bottle. Two characters are occasionally depicted smoking. A lot of extras in the background are scantily clad, and some phallic home-decor items are seen. Some viewers upset by Robin Williams' death may feel a chill when his character says almost in passing that he's going to kill himself.
Sexual Content

South Beach-area background people are scantily clad and occasionally seen semi-nude from the back in G-string swimwear. Household helper Agador's bare bottom is seen once when he's also wearing a thong. A nightclub performer is seen grabbing his crotch in a dance number. A home is decorated with a lot of phallic artwork, and primitive statues with prominent, erect penises are seen.

Violence

Early on Armand breaks down a door in a scene played for comedy. A dinner-party discussion includes a reference to killing abortion doctors. Some viewers upset by Robin Williams' death may feel a chill when his character says almost in passing that he's going to kill himself.

Language

Most frequently used, about a half-dozen times, is "f--k" and variations. Other strong language used a few times each includes "a--holes," "s--t," and "fag." Used once or twice each: "bastard," "bitch," whore," "goddamn," "prick," "ass," "damn," and "son of a bitch."

Social Behavior

Be true to yourself and your loved ones. If you try to hide who you are or lie about who you are to others, you'll only make matters worse by hurting yourself and those you care about. Keep an open mind when you meet someone who seems really different or strange. We're all just people who want the same opportunities for happiness in life.

Consumerism

Time, People, and Newsweek magazines are mentioned once.

Drugs / Tobacco / Alcohol

Armand smokes in several scenes, as does his adult son Val. Adults frequently drink champagne, scotch, and wine, including the 20-year-old son, and they're sometimes seen comedically swigging from bottles. Some scenes take place in a nightclub, and drinks are served to patrons. Armand takes a pill once with his morning coffee. Albert asks for tranquilizers before a performance, but he doesn't know that Agador's really just giving him aspirin.
Legend
Age appropriate

Not an issue

Depends on your kid and your family

Not appropriate for kids of the age most likely to want to see it