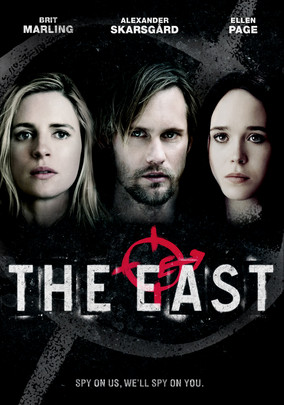 The East
2013
Rated PG-13
1hr 56m
As an agent for a private intelligence firm, Sarah Moss is charged with infiltrating an anarchist group whose attacks threaten her corporate clients. But after penetrating the organization, she finds herself drawn to its charismatic leader.
Rent DVDs for only $7.99 a month.
Movie Details
Ratings

PG-13

Thematic elements, violence, some disturbing images, sexual content and partial nudity
DVD details
Blu-ray details
Screen Formats
Widescreen 2.35:1
Subtitles
English French Spanish (Neutral)
Language and sound
English: Dolby Digital 5.1 Spanish (Neutral): Dolby Digital 2.0 Stereo
Other features
Color; interactive menus; scene access.
Screen Formats
Widescreen Anamorphic 2.35:1
Subtitles
English French Spanish (Neutral)
Language and sound
English: DTS-HD Master Audio Spanish (Neutral): Dolby Digital 5.1
Other features
Color; interactive menus; scene access.
Common Sense Note
Parents need to know that The East is a thriller about a spy who infiltrates a violent eco-terrorist group and becomes involved with its members. The movie doesn't specifically condone this anarchist behavior, though it's clearly angry about irresponsible corporate behavior and suggests that other solutions may be possible. There's not much fighting or shooting, but some blood is shown, and there are some strong images and dangerous acts. Some sexual situations arise, and nudity is suggested but rarely shown. Language is minimal, and a "natural" sleeping drug is used on the heroine. The movie's reactionary message will likely appeal to many teens; hopefully it will inspire good deeds instead of destructive ones.
Sexual Content

Characters bathe together in a lake, and men and women are naked, though very little nudity is shown. A male character's naked bottom is shown as he gets out of a tub. Two main characters kiss and have sex, though no nudity is shown. The main character cheats on her boyfriend while on an undercover assignment.

Violence

The movie centers on a group of eco-terrorists who carry out criminal, quasi-murderous acts against evil corporate entities. They slip drugs into champagne at a party, and people get deathly ill. They force a CEO at gunpoint to jump into a heavily polluted lake. Characters are shot. A makeshift operation is performed, and characters die. The main character slices her arm with a torn aluminum can to make it look as if she's been wounded in a fight. Some blood is shown. Disturbing news footage of environmental disasters, including animals covered in sticky oil, is shown.

Language

Language is very infrequent.

Social Behavior

The movie concerns itself with trying to stop evil corporate behavior, though the "eco-terrorist" group (or anarchist collective) may not choose the healthiest or most responsible ways of protesting. Teens may thrill to the fact that their activities seem to get results, even if those results are dire or deadly. Regardless, the movie doesn't necessarily condone these activities, and it may spark conversation as to what other means might be available.

Consumerism

Not applicable

Drugs / Tobacco / Alcohol

The main character is given a kind of "natural" sleeping drug. She panics and tries to vomit it up before she passes out.
Legend
Age appropriate

Not an issue

Depends on your kid and your family

Not appropriate for kids of the age most likely to want to see it