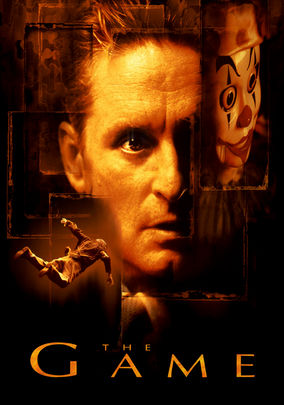 The Game
1997
Rated R
2hr 8m
Financial genius and coldhearted loner Nicholas receives an unusual birthday present from his younger brother, Conrad -- a gift certificate to play a unique kind of game formulated by the mysterious "CRS."
Rent DVDs for only $7.99 a month.
Movie Details
Ratings

R

Language, and for some violence and sexuality
DVD details
Blu-ray details
Screen Formats
Widescreen 1.78:1
Subtitles
Spanish (Neutral)
Closed captioned
Closed captioned
Language and sound
French: Dolby Digital 5.1 English: Dolby Digital 5.1
Other features
One of the pluses of DVD is the way it handles dark images. A well-transferred disk can give you the truest blacks of any home video medium. The Game benefits from these rich, dark color transfers -- any movie that has important scenes in near-darkness benefits tremendously from the format. Zero video noise and sharp details of whatever objects are visible give these sequences almost the same quality they had in the theater.
The sound is also exceptional, if not as flashy as on some other DVDs. Oneof the director's strengths is his subtle use of sound, which is very evocative (try to think of Seven without recalling that film's oppressive soundtrack). The Game makes similar intelligent use of sound that adds to the film's suspense.
Screen Formats
Widescreen 2:40:1
Subtitles
English
Language and sound
English: DTS-HD Master Audio
Other features
Color; interactive menus; scene access; audio commentary; behind-the-scenes featurette; alternate ending; trailer.