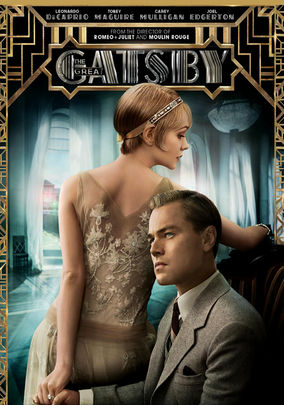 The Great Gatsby
2013
Rated PG-13
2hr 23m
Leonardo DiCaprio stars as literary icon Jay Gatsby in this adaptation of F. Scott Fitzgerald's novel. Fascinated by the mysterious, affluent Gatsby, his neighbor Nick Carraway bears witness to the man's obsessive love and spiral into tragedy.
Rent DVDs for only $7.99 a month.
Movie Details
Ratings

PG-13

Some violent images, sexual content, smoking, partying and brief language
DVD details
Blu-ray details
Screen Formats
Full Screen 1.33:1
Subtitles
English SDH French Spanish (Neutral)
Language and sound
English: Dolby Digital 2.0 Stereo Spanish (Neutral): Dolby Digital 2.0 Stereo French: Dolby Digital 2.0 Stereo
Other features
Color; interactive menus; scene access.
Screen Formats
Widescreen 1.85:1
Subtitles
English SDH Spanish (Neutral) French
Language and sound
English: Dolby Digital 5.1 French: Dolby Digital 5.1 Spanish (Neutral): Dolby Digital 5.1
Other features
Color; interactive menus; scene access.
Common Sense Note
Parents need to know that director Baz Luhrmann's (Moulin Rouge) take on The Great Gatsby is a decadent, dizzying version of F. Scott Fitzgerald's classic American novel. The movie is true to the book, featuring scenes with lots of drinking -- often to excess -- and smoking. There's not too much swearing (though some soundtrack song lyrics include infrequent use of "s--t" and "f--k"), but expect some violence (a man punches another, a car hits a woman head-on, and a character shoots another) and sexuality. Couples -- including people married to others -- are shown kissing and in bed (bare shoulders). Leonardo DiCaprio, Tobey Maguire, and Carey Mulligan star; that, plus the movie's hip soundtrack and lush style, are likely to make it very appealing to teens.
Sexual Content

A couple is heard moaning from behind closed doors. Married men grope at women who aren't their wives, and infidelity is a big part of the overall plot. Some innuendo. A couple exchanges some passionate kisses and is later shown partially nude (no sensitive body parts shown) in bed, under the covers.

Violence

A man is held by two others while someone else hits him, in a very brief scene. Another character runs over a woman with a car; her body is shown many times hitting the windshield and thudding to the ground. A man is also shown shooting someone from a distance and then putting the same gun in his mouth. A man strikes a woman hard.

Language

Language includes relatively infrequent use of "hell," "damn," "goddamn," "oh my God," "son of a bitch," and some derogatory/racist terms and comments. Songs used on the soundtrack include some stronger words, including "f--k" (infrequent), "s--t," and "d--k."

Social Behavior

The film's underlying message is pretty bleak: People, especially privileged people with no perspective, can be rotten. But, in a way, it also celebrates those who continue to hold hope, even in the face of cynicism. There's a conspicuous flaunting of wealth and some discussion about "old" and "new" money.

Consumerism

Not applicable

Drugs / Tobacco / Alcohol

Tons of drinking. One character is described as "morbidly alcoholic," and characters are shown drinking and driving. Also some smoking (accurate for the movie's time period), and one scene shows a woman popping "mood pills." Though the film frequently portrays partying and drunken debauchery as wildly fun, it also includes the darker aftermath -- the literal and figurative messes that need cleaning up.
Legend
Age appropriate

Not an issue

Depends on your kid and your family

Not appropriate for kids of the age most likely to want to see it