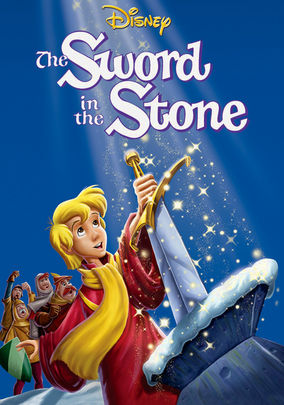 The Sword in the Stone
1963
Rated G
1hr 19m
A humble young squire named Wart allies himself with the powerful magician Merlin and discovers his destiny. No one would have guessed that a sword trapped in a churchyard stone would transform Wart into the legendary King Arthur.
Rent DVDs for only $4.99 a month.
Movie Details
Awards

1964 Academy Award®
Ratings

G

General audiences. All ages admitted.
The Sword in the Stone
Close
Common Sense Note
Parents need to know that the main character experiences some bullying, but otherwise the film offers lots of positive lessons about courage, the importance of brains over brawn, the importance of fair play, and the power of love.
Sexual Content

Addresses the power of crushes to hurt feelings.

Violence

Wart is often punished by his guardian and bullied by Kay.

Language

The bad witch Madam Mim has some words for Merlin, but it's never too harsh.

Social Behavior

Wart/Arthur is often bullied but never becomes a bully himself. Merlin instills in Arthur the importance of a good education and teaches life lessons -- courage, the power of love, and the importance of brains over brawn -- creatively. Also addresses the importance of fair play in competition.

Consumerism

Not applicable

Drugs / Tobacco / Alcohol

Not applicable
Legend
Age appropriate

Not an issue

Depends on your kid and your family

Not appropriate for kids of the age most likely to want to see it