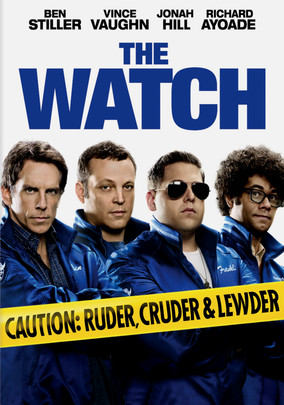 The Watch
2012
Rated R
1hr 38m
Four somewhat civic-minded guys use their neighborhood watch group as an excuse to take a daily break from chores and family togetherness, but they get more than they bargained for when they accidentally uncover an alien plot to invade Earth.
Rent DVDs for only $7.99 a month.
Movie Details
Ratings

R

Some strong sexual content including references, pervasive language and violent images
DVD details
Blu-ray details
Screen Formats
Widescreen 2.35:1
Subtitles
English French Spanish (Neutral)
Language and sound
English: Dolby Digital 5.1 English: DVS - Descriptive Video Service
Other features
Color; interactive menus; scene access.
Screen Formats
Widescreen 1.85:1
Subtitles
English French Spanish (Neutral)
Language and sound
English: Dolby Digital 5.1 English: DVS - Descriptive Video Service
Other features
Color; interactive menus; scene access.
Common Sense Note
Parents need to know that The Watch is a raunchy sci-fi comedy about four suburban guys (including Ben Stiller, Vince Vaughn, and Jonah Hill) who end up taking on an alien invasion. There's some blood and gore, as well as sci-fi shootouts. Expect lots of sexual content, including nudity (toplessness), an orgy scene, implied mutual masturbation, and rampant sexual innuendo. Language is equally strong and constant, with "f--k" and "s--t" both used frequently. Characters drink a lot, and some take drugs. Consumerism is also a big issue, as the movie feels like a huge ad for Costco. The movie made the news in February 2012, when its marketing campaign coincided with a fatal shooting in Florida by a real-life neighborhood watch captain. The movie's marketing and title (formerly Neighborhood Watch) were quickly changed.
Sexual Content

One scene takes place at an orgy. At least one woman is shown topless, several characters engage in simulated sex, and three men engage in mutual masturbation (shown from the chest up). A teen girl is shown making out with a teen boy, and they engage in some foreplay; she wants to stop but he insists on continuing -- then they're interrupted. The teen boy buys some large-size condoms. Porn magazines are glimpsed. The main character and his wife are trying to have a baby, and there are a few scenes of kissing and seduction, as well as much discussion about sperm. Sexual innuendo is very strong and constant.

Violence

A few human characters are slaughtered in an alien attack. Viewers see huge blood spatters, body parts, and mutilated corpses. There's lots of shooting -- both guns and extraterrestrial laser cannons -- though aliens take most of the hits (they ooze green blood). Also some hand-to-hand fighting (with injuries) and lots of arguing.

Language

Language is strong and constant, with multiple uses of "f--k," "s--t," "p---y," "c--t," "ass," "a--hole," "c--k," "d--k," "c--ksucker," "goddamn," "hell," "damn," "prick," "vagina," "jizz," "hymen," "balls," and "jackass," plus uses of "oh my God," "Jesus," and "Jesus Christ" (as exclamations). There's some 1980s-era "gangster rap" on the soundtrack that also has strong language (including "motherf--ker").

Social Behavior

Despite a lot of iffy behavior, the movie does have messages about teamwork and learning to communicate. Characters also show courage in the face of danger.

Consumerism

The main character is a manager of Costco. Many scenes take place inside a Costco store, and the name is mentioned many times. Many other brands are mentioned and shown as well, often more than once, including Coca-Cola, Budweiser beer, Rayovac batteries, Magnum condoms, Bugles snacks, and Tide. Facebook is also shown and mentioned.

Drugs / Tobacco / Alcohol

A minor character celebrates inside a Costco, drinking hard liquor, smoking pot, and popping pills from a pharmacy. The main characters are almost constantly drinking, either beer or Scotch, but are never shown drunk. One of the main characters mentions possessing pot, but this isn't shown.
Legend
Age appropriate

Not an issue

Depends on your kid and your family

Not appropriate for kids of the age most likely to want to see it