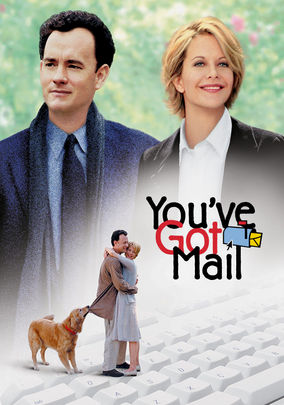 You've Got Mail
1998
Rated PG
119 mins
In this valentine to modern romance, book superstore magnate Joe Fox (Tom Hanks) and independent book shop owner Kathleen Kelly (Meg Ryan) fall in love in the anonymity of the Internet -- both blissfully unaware that he's trying to put her out of business. Director Nora Ephron's Golden Globe-nominated romantic comedy puts romance on the ropes -- and forces two people to make tough decisions about life, love and livelihood.
Rent DVDs for only $7.99 a month.
Movie Details
Awards

1999 Golden Globe Awards

Best Actress in a Motion Picture (Musical or Comedy) nominee
DVD details
Screen Formats
Widescreen Anamorphic 1.85:1
Subtitles
French English
Closed captioned
Closed captioned
Language and sound
English: Dolby Digital 5.1
Other features
Film score audio track, audio commentary, production notes, DVD ROM features , cast and crew information , cast and crew interview , making-of featurette , trailer(s), enhanced for 16x9 TVs

Loading
We're sorry an error occurred while processing your request.