Alan Arkin Movies

One of only a handful of actors to be nominated for a Best Actor Oscar in a debut film (for The Russians Are Coming, the Russians Are Coming, 1966), Alan Arkin has enjoyed a long career that's seen him move from edgy, young thespian to one of acting's elder statesmen.

Born March 26, 1934, in New York City, Arkin helped form the Chicago comedy troupe Second City before he tried his hand at the New York stage. After receiving widespread critical acclaim for his role in the Broadway production of "Luv" (1964), Arkin began getting offers from Hollywood, and soon, he appeared in, The Heart Is a Lonely Hunter (which earned him a second Oscar nod) and 1970's Catch-22.

In recent years, Arkin has landed meaty roles in films such as Glengarry Glenn Ross (1992), Grosse Pointe Blank, Slums of Beverly Hills and 2006's Little Miss Sunshine, for which he received his first Oscar statuette.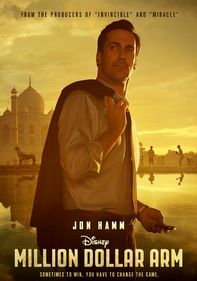 Looking to save his failing business, sports agent J.B. Bernstein launches a reality show to find India's best cricketers, with the goal of turning them into professional baseball players and signing them to Major League contracts.