Anna Kendrick
Born in Portland, Maine, on Aug. 9, 1985, Broadway child star turned film actress Anna Kendrick was just 13 years old when she won a featured role in the musical "High Society" and became the second-youngest actress ever to receive a Tony nomination. Since then, she's earned a reputation as an up-and-comer to keep an eye on.

Kendrick garnered an Independent Spirit Award nod for her big-screen debut in the musical drama Camp (2003) and then took four years off from filmmaking, returning with another Independent Spirit Award-nominated performance in the high school debate team yarn Rocket Science.

Kendrick later signed on to the popular vampire franchise Twilight, playing Kristen Stewart's best friend, and landed a plum role as a corporate ladder-climber chasing George Clooney in the 2009 drama Up in the Air. The performance brought Kendrick her first Golden Globe, Oscar and BAFTA nods.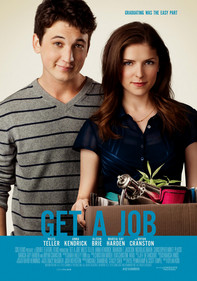 Armed with fresh college degrees, a group of friends wades into the job market but are dismayed by the opportunities offered, ranging from lowly service jobs to bizarre tasks that only a desperate person would consider.