Elijah Wood Movies

Born in Cedar Rapids, Iowa, on Jan. 28, 1981, Elijah Wood began his career as a child model and commercial and television actor. His starring role in 1990's Avalon pushed him into the spotlight, and a series of high-profile roles followed in films such as Paradise (1991), Radio Flyer (1992), Forever Young (1992) and The Good Son (1993).

His work took on a mature tone with director Ang Lee's The Ice Storm (1997), which was followed the next year by appearances in ensemble films such as Deep Impact and The Faculty. It was his work in the latter that attracted the attention of director Peter Jackson, who cast Wood as hobbit Frodo Baggins in his Oscar-winning Lord of the Rings trilogy (2001-2003).

Since then, Wood has selected parts in darker, edgier films, including Eternal Sunshine of the Spotless Mind (2004) and Sin City (2005).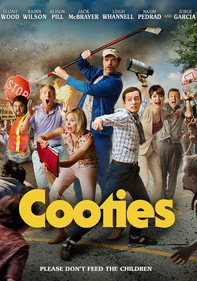 In this tongue-in-cheek chiller, students at an elementary school fall prey to a virus that transforms them into bloodthirsty, cannibalistic mutants. As the infection spreads, both faculty and unaffected pupils try to escape the school alive.