Govinda Movies

Named for a Hindu deity, Govinda was born Govind Arun Ahuja on Dec. 21, 1958, in Punjab, India, but has spent much of his life in Mumbai. He debuted as a dancer in Tan Badan (1986) and eventually became a bona fide actor in the thriller Hatya (1988).

But Govinda's star didn't truly shine until he teamed with director David Dhawan for a string of successful films. Among their box-office hits are Aankhen (1993), Raja Babu (1994), Coolie No. 1 (1995), Saajan Chale Sasural (1996), Hero No. 1 (1997), Deewana Mastana (1997), Bade Miyan Chote Miyan (1998) and Haseena Maan Jayegi (1999).

Generally considered Bollywood's top comedic actor, Govinda has continued working steadily in the new millennium, appearing most notably in Aamdani Atthanni Kharcha Rupaiya (2001), Akhiyon Se Goli Maare (2002) and Sandwich (2006).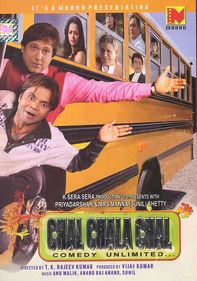 Deepak (Govinda) is a young man disheartened by the corruption he finds throughout society. When a lawsuit earns his father a seemingly useless school bus, Deepak puts the vehicle to good use by starting his own transportation business. Corruption continues to dog his new enterprise, but with the wisdom and love of his father, Deepak discovers that character is the key to any successful business. Rajpal Yadav, Om Puri and Reema Sen co-star.