Ian McKellen
Born May 25, 1939, in Burnley, England, Ian McKellen moved with his family to the mining community of Wigan just before World War II. He developed a love for theatre at a young age, and while many of his early screen appearances were filmed versions of classics by William Shakespeare and Charles Dickens, McKellen eventually found his way into contemporary cinema.

With his turn as politician John Profumo in 1989's Scandal, McKellen began to gain global fame. Nine years later, his performance as gay director James Whale in Gods and Monsters earned McKellen his first Oscar nomination.

McKellen secured his iconic status among sci-fi and fantasy fans with his roles as Magneto in X-Men (2000) and as the wizard Gandalf in the Lord of the Rings trilogy, which brought another Oscar nod in 2002. On the small screen, McKellen has snagged five Emmy nominations, including one for the 2009 cable miniseries "The Prisoner."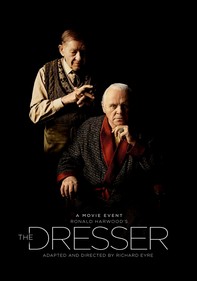 In this small-screen adaptation of the play of the same name, bombs are falling during World War II's London blitz, but the show -- in this case "King Lear" -- must go on. But it all depends on the aging star being found and wangled by his dresser.