Jude Law
Smart, sophisticated and favored with smoldering good looks, David Jude Law has been on a professional upswing ever since he dropped out of school to star in a daytime British soap opera in 1990. Born Dec. 29, 1972, in Southeast London, Law began his formal acting training with the National Youth Music Theatre.

Later, he starred in plays and was even nominated for the Olivier Award for "Outstanding Newcomer." Law made his big-screen debut in the futuristic thriller Gattaca (1997) and followed up that effort with starring roles in Midnight in the Garden of Good and Evil (1997), Enemy at the Gates (2001) and The Talented Mr. Ripley (1999).

Law married English actress Sadie Frost, but the couple divorced in 2003. That year also saw Law's most impressive performance to date -- the laconic deserter Inman in Cold Mountain (for which he received a Best Actor Oscar nomination).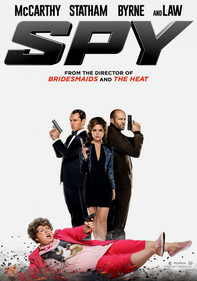 Unassuming CIA analyst Susan Cooper is far from being a James Bond type, but when she's thrust into the field to investigate the disappearance of her partner, she turns into an improbable superspy.