Rita Hayworth Movies
Shy and unassuming in real life, Rita Hayworth turned into the sultry siren the public knew when the cameras began rolling. Born Oct. 17, 1918, in Brooklyn, N.Y., she came from a famous family of Spanish dancers, and it was as part of their act ("The Dancing Cansinos") that she attracted Hollywood's attention.

Hayworth first made a splash in Only Angels Have Wings (1939) and The Strawberry Blonde (1941). But she achieved true stardom after showing off her considerable dancing talent in a series of musicals, including You'll Never Get Rich (1941) and You Were Never Lovelier (both with Fred Astaire), and 1944's Cover Girl (opposite Gene Kelly).

The titian-haired beauty also gave notable performances in nonmusical films such as Gilda (1946), The Lady from Shanghai (with then-husband Orson Welles) and Pal Joey (1957). Hayworth died May 14, 1987, after a long battle with Alzheimer's disease.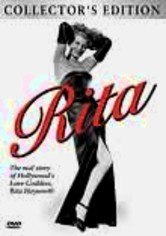 Kim Basinger narrates this engaging documentary that chronicles the life and career of the legendary Rita Hayworth, a complex and alluring actress who reached the pinnacle of Hollywood success when she starred in Gilda in 1946. The sultry siren -- affectionately called the Love Goddess -- was a silver-screen icon, but her professional success eclipsed her personal life, which included failed marriages to Orson Welles and Prince Aly Khan.